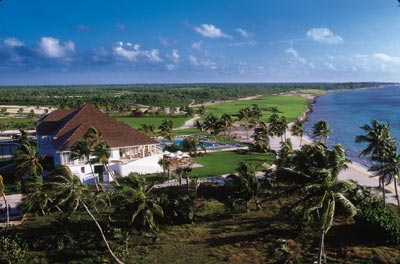 It is a red flag often waved too dramatically by eco-sensitive activists, but the travel and tourism industry rarely pays much heed to environmental preservation and conservation. The ethos isn't to damage the environment, but compromises are inevitably made in the large-scale construction of resorts, and the simple truth is that green space must fall victim to leisure.
In a small hamlet at the east end of the Dominican Republic, an island replete with luxury resorts, the Punta Cana Resort and Club has distinguished itself by thinking green. Located just five minutes from the town's international airport, and accessible either by plane or full-service marina, the underlying philosophy of conservation for the area's natural surroundings has won it praise from low-density advocates: guests and industry types alike. The decision to focus on eco-sensitivity was an easy one for the resort designers—the site they desired, with its lush vegetation, bleach white sand beaches, and crystal clear waters, is ringed by an eight-kilometre long stretch of vital coral reef home to thousands of marine species. Building, it was decided from the beginning, must play second fiddle to the natural arena, and a number of environmentally protective policies are in place to ensure that the Punta Cana coastline stays pristine for generations of tourists to come. Waste management programs reduce pollutants to protect the offshore barrier reefs. A system of ponds purifies wastewater on the property, reused to irrigate the golf course grounds and the organic vegetable and spice gardens that supply daily produce to the kitchen. Dishes and linens are washed with biodegradable detergents. Glass bottles are recycled, and organic wastes are composted—the attention paid to ecosensitivity is all-encompassing, and led in 1994 to the establishment of the Punta Cana Ecological Foundation, a non-profit environmental organization endowed with 1,000 acres of land around the resort for enjoyment and research. Nature and leisure have wed on these shores, and the marriage is a fruitful and progressive one.
Each of the 420 rooms at the Punta Cana Resort and Club looks out on some angle of these gardens, offering an elegant blend of natural beauty and privacy to guests, whose rooms overlook either the oceanfront or the shade from a grove of trees. All the expected touches can be found in each room, including traditional Caribbean-style décor and mahogany furnishings in-room, as well as seating accommodations on each private balcony. Deluxe golf rooms and beach villas offer an oceanfront setting and more living space, while a series of refurbished nature villas called Nature Villas, to be opened early in 2004, are nestled in the serene confines of tropical jungle. For the ultimate in extravagance, guests can upgrade to the Tortuga beach villas, luxurious two-level suites that include private outdoor Jacuzzis and the stylistic vision of famous Dominican couturier Oscar de la Renta. Whatever accommodation chosen offers privacy and a unique, authentically Dominican view.
Guests with garden views, for instance, get a first-hand opportunity to observe exactly what makes dining at Punta Cana Resort and Club a healthy and unique experience. Truckloads of imported food are wheeled up to the restaurant entrance. Fresh seafood doesn't arrive encased in chests of ice. The menus at La Yola, La Choza, and El Cocoloba, the resort's three notable dining rooms, all feature locally grown ingredients and locally caught seafood, and the freshness of these dishes comes out in the flavour. Specializing in pasta and seafood, guests at La Yola would be wise to try the mixed seafood grill, for which shrimp and lobster are the centerpieces. Gaze out off the bow of the harbour or look down through the restaurant's glass-bottom floors to find the origins of the dish—this nautically themed restaurant offers one of the most exotic and dramatic settings of any restaurant in the Caribbean. Alongside the newly opened gourmet El Cocoloba, featuring fusion Caribbean cuisine like goat loin framed with porcini mushrooms and gratin potatoes, Punta Cana Resort boasts a luxurious tandem of restaurants in an unexpected place. Anani, with its open-air elegance, piano music and exotic seafood dishes, offers a third unforgettable dining option.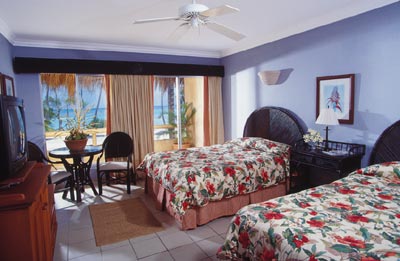 A variety of more casual restaurants offer a nice counterpoint to the dining options at Punta Cana. La Choza is the best choice for a late lunch or mid-afternoon snack, where guests poolside can grab a grilled entrée, sandwich or salad without missing out on those precious last hours of sunshine. At the golf course, The Grill features similarly traditional fare with some local seafood on the menu, and La Cana is the ultimate casual restaurant, open for all three meals daily. Along with Franco's Pizzeria and Mamma Venezia, seldom does a guest at Punta Cana Resort and Club find a craving go unfulfilled.
With all the amenities one would expect at a luxury golf resort, it is the unexpected that makes Punta Cana stand out. The 1,000 acres granted to the ecological foundation has been transformed into an extraordinary green complex, including a biodiversity laboratory, the Indian Eyes Ecological Park, a petting zoo, and a series of nature trails allowing hikers and joggers the opportunity to explore this diligently preserved environment. Free guided tours are available through the hotel, which lead guests around and past 11 natural water springs that feed the teeming and unusual flora and fauna that flourish in the Caribbean. Kids and parents alike will also be drawn to the domesticated component of the green area, a petting zoo where goats, rabbits, donkeys, and chickens are kept. Exhibits of sugar cane, coffee, and cocoa plantations can also be explored on-site, and guest lecturers are often available for tours to those on vacation with academic leanings. A week at the Punta Cana Resort and Club truly is a unique and rewarding vacation experience of environmentally minded luxury in a tropical paradise.