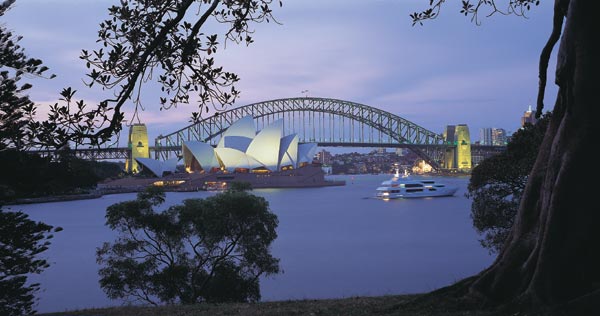 From the great cities of Australia's South and East coasts to the birthplace of the country's finest vintages and culinary inspirations, and the rugged charms of Tasmania, we have assembled a luxury escape that highlights the magical and majestic South Pacific. Over two weeks, you will trod the hallowed turf of the finest golf courses in the southern hemisphere, including Royal Melbourne, New South Wales, Kingston Heath, and Tasmania's Barnbougle Dunes. You will sink your feet into the sands of Bondi Beach, and into the rich soils that yield the varietals for the area's finest wines. And you will stay in the finest hotels and lodges in Oceania, those for which the highest accolades in the hospitality industry are reserved.

It's tough to dispute the luxury tag. What's not luxurious about golf games at World Top 50 courses, dinner reservations at World Top 50 restaurants, and accommodations, night after night, at international hotels that are icons on the urban landscape? Sit back at the end of any given day, after a superb sunrise round of links golf, lunch at the local winery, and a seven-course tasting under the stars of the southern hemisphere, and try to imagine a more fruitful extravagance.

We doubt your mind's eye will take you where we can.
If you would like to be sent a full itinerary for the entire Australia Golf Package, please contact us.
Itinerary
Day 1+2 • DEPART FOR AUSTRALIA
Overnight flight from major international airport to Sydney • One day is lost to crossing of the international date line • Day retrieved on return flight
Day 3 • SYDNEY
Hotel - Four Seasons Sydney
Arrive in Sydney. Transfer to Four Seasons Sydney, the city's finest hotel with terrific views of the Sydney Opera House • An afternoon round of golf is optional •
Day 4 • SYDNEY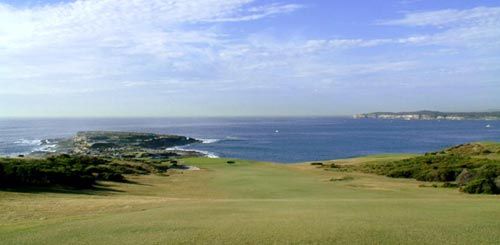 New South Wales Golf Club, 6,915 yards, par 72
Morning round at New South Wales (Dr. Alister Mackenzie) •
Day 5 • SYDNEY
Golf today will be at The Australian, a course recently restored by Jack Nicklaus' design group •
Day 6 • SYDNEY / ADELAIDE
Hotel - The Hilton Adelaide
A morning flight to Adelaide • Transfer to the Hilton Adelaide • Afternoon golf is at Royal Adelaide, ranked #5 in Australia and 50th in the world •
Day 7 • ADELAIDE
A leisurely 90-minute drive up to Barossa Valley will put you in the middle of Australia's most famous wine region • Explore the vineyards on your own, or we can happily set up tours •
Day 8 • MELBOURNE/MORNINGTON PENINSULA
Hotel - Peppers Moonah Links Resort
Short flight to Melbourne and a 75-minute transfer to the Peppers Moonah Links Resort • Golf at either the Open or the Legends at Moonah Links •
Day 9 • MORNINGTON PENINSULA
Breakfast followed by the prestigious National Golf Club five minutes away • 36 holes is offered today, on any of NGC's three courses •
Day 10 • MELBOURNE
Hotel - The Langham Melbourne
Short drive to Melbourne • accommodation is at the Langham Melbourne, a beautiful hotel perfectly located on the Yarra River • Afternoon golf at the Commonwealth Golf Club, located in the Sandbelt region to the south of the city •
Day 11 • MELBOURNE
Breakfast at the hotel, or at any of the cafes around the city • Golf at Kingston Heath Golf Club, ranked #2 in Australia and #21 in the world •
Day 12 • MELBOURNE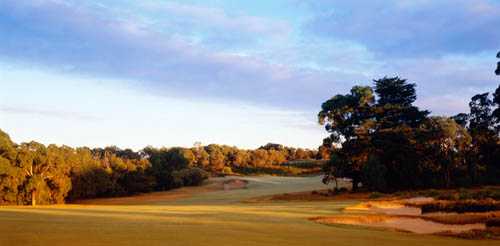 Royal Melbourne Golf Club (West)

,
6,589 yards, par 72
Morning travel to Australia's best golf course – Royal Melbourne • The famed West Course and a selection of others are available for play •
Day 13 • BRIDPORT, TASMANIA
Hotel - Barnbougle Dunes
Short morning flight from Melbourne to Launceston, Tasmania • Airport pick-up is arranged for guests to make the 75-minute trip to Barnbougle Dunes, golf's newest wunderkind • Architect Tom Doak has created a remarkable dunesland course on the north shore of the island, one that recently ranked 49th in the world • Comfortable accommodation can be found on site and dinner at the clubhouse, is delightful.
Day 14 · BRIDPORT, TASMANIA
A morning round at Barnbougle leaves some time to explore Tasmanian culture ·
· Add-Ons ·
Trip extensions can be arranged, whether it be an additional 1-2 days in Sydney, or an extended trip within Australia, to visit destinations including the Great Barrier Reef, the Gold Coast, or Ayers Rock · The New Zealand add-on includes visits to the North Island's most beautiful golf courses and cities (Cape Kidnappers, Wairakei) · A stopover in Fiji at the Denarau Golf Resort can also be arranged.
· Accommodation Details ·
Accommodations are more than just a place to rest your head, and in that spirit, we have chosen some of the finest hotels, in service, amenities, and location, to make the most of your South Pacific tour. In addition to great service and great dining, each hotel is ideally located at the cultural center of each stop on the trip, allowing you to truly experience each map mark on the tour.
For immediate service call Golf TI toll free in North America at 1.888-904-2626 or 1.416.703.4653 outside North America. Our office hours are 9:00 am to 5:00 pm Eastern time. Outside of these hours please email us or fill in our online information request below.

If you would like us to send you more information, complete the following form and click once on the "send" button at the bottom of the page.

In order to send you color brochures & printed info, we require the following contact information. All fields are marked with * are required. Note: for your privacy, we do not share this information with anyone.
We check our messages and send replies several times per day; however, if you do not hear from us promptly, please contact us at the above phone numbers or email.