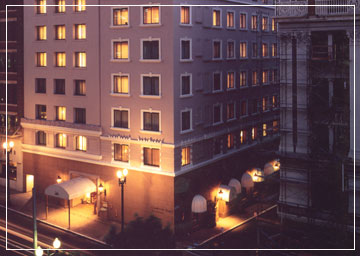 International travelers who have traveled to the farthest reaches of civilization reflect fondly on those cities that touched them most; those rich in culture, culinary traditions, social atmosphere, setting, and history. San Francisco has long been at the top of the list of cities, a place where tourists marvel and locals nod knowingly, where stunning waterfront vistas intermingle with the upbeat, funky west-coast culture that this 'city by the bay' is known for. Along with terrific shopping and cuisine, San Francisco has earned its reputation as a premier vacation spot, and short trips beyond the city limits yield to world-class golf as well. Pebble Beach, a short trip down the coastal highway to Monterey, is the obvious choice, but there is terrific golf to be had within just an hour's drive of the Bay Area, at the classic Pasatiempo Golf Club or inland to the Livermore region, where Wente Vineyards stretches out between stands of grapevines.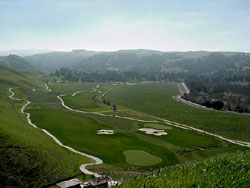 A visit to the 'Jewel of the Western Hemisphere' should start with a check-in at its most precious hotel, the beautiful Campton Place on the fringes of the city's financial district and its toniest shopping area. A member of the elite group of Leading Hotels of the World, Campton Place incorporates some of the finest virtues of the boutique hotel brand with all the amenities of a full-scale hotel. With only 110 rooms, luxury is tempered only by grand service and privacy. Rooms are light and uncluttered, offering broad views of Union Square, and bathrooms are accented by custom German fixtures and French limestone countertops. Handsome furnishings and artwork conjure impressions of a fine study lounge, and the cinnamon throw blankets are a nice touch on the impossibly comfortable beds.
With such a prized Stockton St. address overlooking Union Square, guests are immediately thrust into the city's rich political history and its traditional leanings. Pro-Union demonstrations were held here regularly some 145 years ago, and today a granite column at its center commemorates the Spanish-American war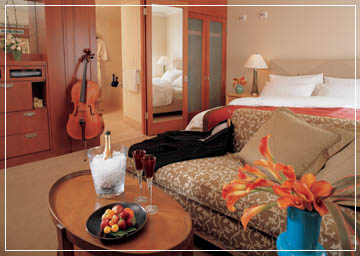 victory at Manila Bay. Nearby, the cobbled Maiden Lane is lined on both sides with high-end shops and boutiques where one can find fresh flower stands, antique, out-of-print books, San Francisco chocolates, or a new dress for dinner at the Campton Place supper club.
There, Daniel Humm's contemporary brand of European cuisine brings a sophisticated spirit to the San Francisco dining scene. Youthful, innovative, and brash with his plate assemblies, Humm brandishes the fresh local ingredients available and fuses them with a distinctly European feel. Selecting from the menu reminds one of the old adage 'picking off fish in a barrel': a starter consommé of saffron-infused Hawaiian prawns offers Zen-like refreshment, and the frog's legs ravioli with foie gras-stuffed morels is downright sinful. More robust mains like the Tasmanian king salmon with horseradish crust and the herb-crusted Colorado lamb deliver for the most discerning palates. For guests who suffer from the common problems of indecision, the chef's ten-course tasting menu, with wine pairings, is the perfect tour through the fantastical culinary world that lives in Humm's talented mind. With a newly remodeled dining room that has restored the downtown supper club vibe to Campton Place, the clean, sleek atmosphere offers the perfect canvas for Humm to display his work. It's always nice to know, on a visit to San Francisco, that you're in good hands for food and rest at a single address.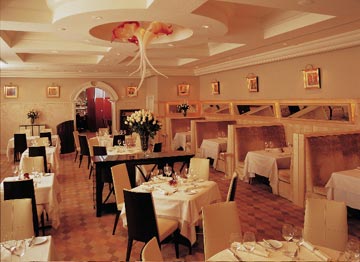 With its focused ethos of comfort, privacy and style, Campton Place is not a playground full of amenities, and it's just as well; visiting San Francisco and not seeing San Francisco would be a criminal oversight. Guests can certainly unwind and work up a sweat in the Campton Place fitness room, and those seeking meeting facilities for small corporate gatherings can certainly arrange them in advance. Worldwide, in the best cities, there always seems to be a single property that captures that cosmopolitan essence – that indefinable sense of place. Campton Place is emerging now as the lead horse in the San Francisco drove.